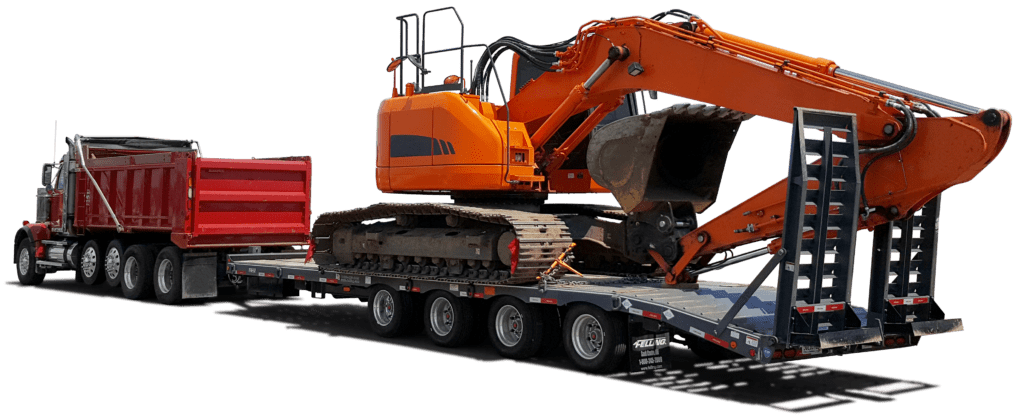 Felling Construction Trailers
More Models for More Markets Than Any Other Trailer Manufacturer.
Felling's diverse Construction Trailers product line is the answer to any company's and contractor's needs. With trailers ranging from the smaller side such as our 3,000 lb. Light Utility Trailers to the larger side such as our 120,000 lb. Heavy Haul Application Trailers, Felling is the key solution for your hauling needs.
No matter what you are hauling, we have the trailer to meet your needs. From lawnmowers to skid steers, to backhoes, to pavers, Felling has the trailer and the features to make your journey from the worksite to the highway a smooth one.
---
Drop Deck (Light Utility)
---
What Kind of Trailer is Right For You?
Deck Over Trailers – We know that you work hard and expect your equipment to do the same and then some. That's why we have designed and engineered our Deck Over Equipment Trailers with the strength and durability to get the job done day after day.
deck over tag trailers
deck over tilt trailers
Drop Deck Trailers – Also known as a "Deck Between the Wheels" or a "Skid Loader Trailer" is a smaller capacity trailer designed to carry smaller compact equipment like a scissor lift or skid loader. Drop Deck Trailers can be equipped with various ramp options or with a deck tilt feature.
drop deck ramp trailers
drop deck tilt trailers
Hydraulic Dumps – Also called a "Dump Box Trailer" come in various sizes. They can be designed to haul a small load of dirt or haul your equipment to and from the job site.
hydraulic dump trailers
Semi Trailer Lines – Trailers designed to haul heavier loads. Built for the farm or the job site. Semi-Trailers come equipped with ramps or hydraulic lift options.
Semi Trailer Line
Request a Quote From a Trailer Expert
Felling Trailers, Inc. is an ISO 9001 Certified Quality Management System, WBENC-Certified
WBE company, and an EOE Equal Opportunity Employer.