Government Solutions
Gallery
Military • State • Local
Felling Trailers has been working with Local, State, and National Governments for forty years, meeting and exceeding their standard and custom trailer needs. Felling's current product line reflects an ongoing commitment to innovation and quality craftsmanship.
Felling Trailers, Inc., is an ISO 9001 Certified company for our Quality Management System & is a WBENC-Certified WBE company (Women-Owned Small Business)

*Felling Trailers proudly employs Veterans.
"They have enjoyed the quality product and like the fact it is offered on Sourcewell (Formally NJPA) and NYS OGS contracts which makes purchasing easy for muni's…"

–Nick Padulo, Commercial & Municipal Account Manager, Tracey Road Equipment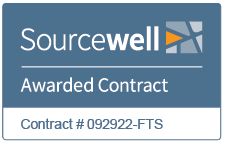 Sourcewell Awarded Contract
Sourcewell (Formerly NJPA) is a public agency that serves as a member-focused cooperative for over 50,000 member agencies nationally. Sourcewell offers a multitude of cooperatively contracted products, equipment and service opportunities to education and government
How to Purchase with Sourcewell?
Online Application
Providing Strategic Sourcing – "Best Bang For Your Buck"
A service of the U.S. General Services Administration
What is GSA?
GSA Advantage is the federal government's premier online shopping superstore giving you access to millions of commercial products and services available through pre-negotiated Schedule contracts. Federal agencies may use the GSA Advantage platform to purchase our trailers or the GSA EBuy platform to request a quote. Utilizing the Cooperative Purchasing and Disaster Purchasing Programs, State, and local governments can take advantage of this system to save time and reduce overall costs on the supplies and services they need.
What is the definition of state and local government?
States, counties, municipalities, cities, towns, townships, tribal governments, public authorities, school districts, colleges and other institutions of higher education, a council of governments, regional or interstate governments, or any agency or instrumentality of the preceding entities, and legislative or judicial departments.
Felling Trailers holds several State Contracts,
for more information on available contracts please contact us:
Email: [email protected] or call 1-888-FELLING (335-5464)
From our Engineering Department to the Shop Floor, we break it down for you.
Felling Trailers, Inc. received ISO 9001 Certification for our Quality Management Systems in the Spring of 2017 for our Sauk Centre, MN. and Litchfield, MN. operations.
Engineering – PE Certified Engineering Staff
Our Engineers and Designers utilize the latest industry-leading design technologies to ensure the strength and capacity of each trailer manufactured.
Production
We employ some of the most highly skilled metal craftsmen in the industry. We then pair their skills with cutting-edge equipment to produce one of the finest trailers in the industry. Recently we have implemented our Weld Quality Standard to reflect the American Welding Society D1.1/D1.3. Also, Felling has implemented a Documented Real-Time Torquing Procedure that was officially implemented on January 1st, 2019. The goal of the procedure is to verify that safety-critical attachments are torqued within +/- 5% of the target torque requirement
On the Shop Floor – Equipment
Mitsubishi 6000 Watt Fiber Laser with a 6′ x 12′ cutting area capable of cutting 1′ mild steel
Safan Electric 110 ton Press Brake with an 8′ bed
Cincinnati CB-II 350 ton Press Brake with 14' 2″ bed
Accupress Edge 250 ton Press Brake with 10′ bed
55′ Beam Welder with dual Lincoln 500 amp welders and automatic seam tracking
50′ Bugo Beam Welder with dual 450 amp Miller welders
Marvel 2150 Vertical Band Saw with 20″ x 25″ rectangular capacity, feed automation, and 60º capabilities
(2) Hyd-Mech S23A Saw horizontal band saws with auto feed
Clausing Metosa Lathe
Summit Mill
Bridgeport Mill
(1) BlastOne Steel Shot Blast Booths
(4) Paint booths (70′ capability)
Custom Trailer Form
All submitted information is considered confidential.