Small Utility Trailer – Drop Deck
Light utility drop deck trailers are a great multipurpose small utility trailer for your ATV, lawnmower, golf cart, or any other product. They're the all-purpose unit, whether you are taking your four-wheeler up to the cabin or the lawnmower down the road to help the neighbor out, a drop-deck style Felling Small Utility Trailer fits the bill. Our FT-3 Utility trailer is also used in Felling Trailers annual Trailer for a Cause auction that benefits a nonprofit organization. This annual auction has raised over $25,000 for nonprofit organizations such as Bright Pink – Breast Cancer, SOMN – Special Olympics Minnesota, Children's Cancer Research Fund, and Lymphoma Research Foundation, to name a few. Another option for a small utility trailer is Felling's Open Top Light Utility Trailer. A popular model with the rental industry, the Open Top Light Utility Trailer is constructed with tall pan-style sides, a top tie rail, and a full-width mesh ramp, it is truly a multi-purpose trailer.
• Capacities Ranging from
1,800 to 11,350 lbs.
• Pan Style Side Construction – Various
heights available
• Perfect for Residential or Professional use
• Spring Assist Full Width Ramp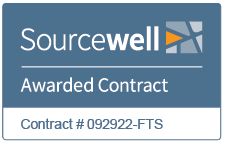 ---
---
Request a Quote From Our Trailer Export
Felling Trailers, Inc. is an ISO 9001 Certified Quality Management System, WBENC-Certified
WBE company, and an EOE Equal Opportunity Employer.