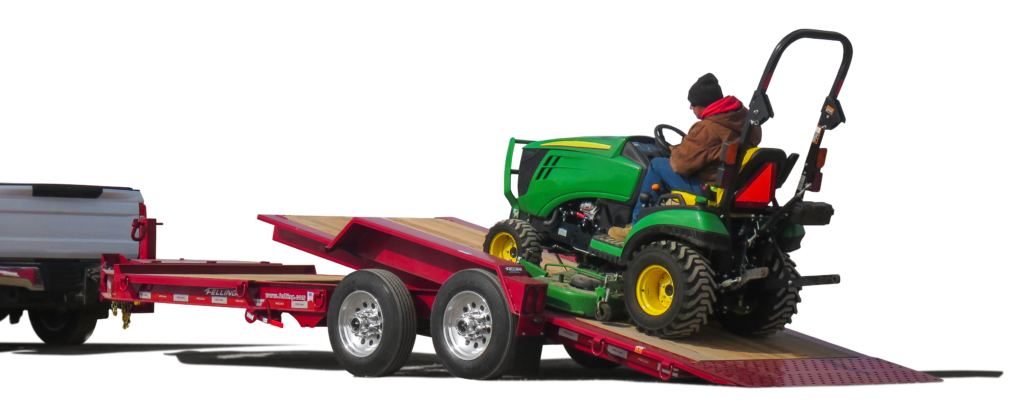 3 Styles of Drop-Deck Tilt Trailers
Felling's Drop-Deck Tilt trailer's tilt beds tilt to the ground for loading or unload of equipment. Each style tilt operates in a different way.
• Pan Tilt is a gravity tilt, it uses gravity and a center pivot point for the tilt bed to tilt.
• IT-I (Industrial Drop Deck Tilt) tilts with the use of a cushioned cylinder, gently lowers the tilt bed to the ground for loading.
• EZ-Tilt tilts/lowers the tilt bed to the ground via its rotating torsion axles, as axles rotate the tilt bed lowers to the ground.
---

---
What Kind of Trailer is Right For You?
 Pan Tilt Series – This series is perfect for any low-clearance machine, this dynamic design works great from the warehouse to the work site to the home site. A few common applications include mowers, scissor lifts, rollers, forklifts, landscape materials, and more. There are several Tilt Bed Trailers on the market today but none compare to the Felling Pan Tilt Bed Utility Trailer.
Pan Tilt Series
IT-I Tilt Series  – Felling Trailer's advanced design IT-I Series Tilt Deck Equipment Trailer released for the 2020 model year. Our Engineering Team has been working diligently on an advanced design for the IT-I Series model line. This refined design incorporates additional standard features, structural strength, and ease of operator use.
IT-I Tilt Series
EZ-Tilt Series – The EZ-Tilt trailer is a ground-level loading unit that makes the job of loading low-clearance, cumbersome equipment like floor sweepers/scrubbers and scissor lifts a simplified & safer task for the operator. Unique to Felling's tilt deck trailer model is its EZ-Tilt Technology with rotating torsion axles.
EZ-Tilt Series
Request a Quote From a Trailer Expert
Felling Trailers, Inc. is an ISO 9001 Certified Quality Management System, WBENC-Certified
WBE company, and an EOE Equal Opportunity Employer.