The Construction Drop-Deck Trailer Series
that Gets the Job Done
Felling Trailers offers 4 main model lines of drop-deck trailers (deck between the wheels, low deck, ramp trailer.) Which drop-deck trailer model line is right for your application will depend on the equipment you are transporting. Take a look at our I series, Pan series, Light Utility, and Compact Loader (CL) model lines here.
---
What Kind of Trailer is Right For You?
I Series – Our Engineering Team has worked diligently on the advanced design of the I Series model line equipment trailers. The leading-edge design incorporates additional standard features, structural strength, and ease of operator use.
View I Series
Pan Series – The Pan Series Skid Steer Trailer is constructed of a structural channel tongue, fabricated steel pan sides, and Jr. I-beam cross members. Pan Series Skid Steer Trailers offer one of the lowest load angles for a ramp trailer in the industry, making them an ideal fit for skid loaders!
View Pan Series
Light Utility – Light utility drop deck trailers are great multipurpose small utility trailers for your ATV, lawnmower, golf cart, or any other product. They're the all-purpose unit, whether you are taking your four-wheeler up to the cabin or the lawnmower down the road to help the neighbor out, a drop-deck style Felling Small Utility Trailer fits the bill.
View Light Utility
Compact Loader Series – Felling Trailers designed and engineered the Compact Loader (CL) model line with your equipment in mind, making it the perfect Mini Skid Steer Trailer.
View Compact Loader
---
Available Ramp Options for Drop-Deck Trailers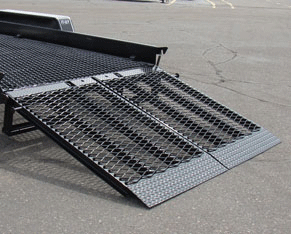 See some of the popular ramp options that are available to
you for your Felling Drop-Deck trailer.
Ramp Options
Request a Quote From a Trailer Expert
Felling Trailers, Inc. is an ISO 9001 Certified Quality Management System, WBENC-Certified
WBE company, and an EOE Equal Opportunity Employer.