Utility & Telecom Trailer Solutions
Felling Trailers Utility & Telecom Division provides trailer solutions for a broad customer base that includes major and regional electric, natural gas, water, and telecommunication companies. From standard models to custom designs, the end result is a trailer that meets your needs.
---
Utility Cable Reel Series Trailers
Utility Pole Series Trailers

Utility Pole Cargo Trailers

Utility Pole Cargo Dump Trailers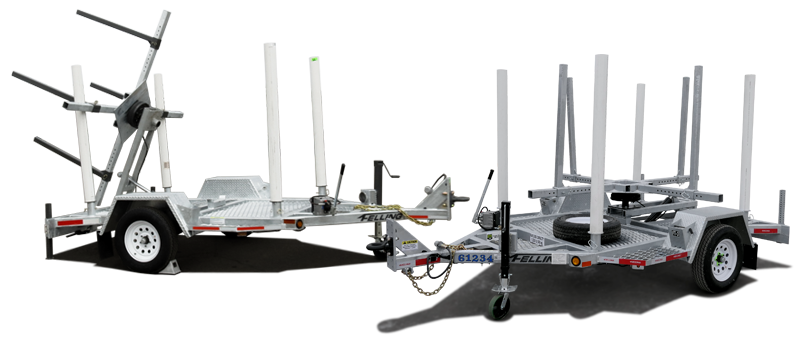 Pipe Coil Series Trailers
Horizontal Directional Drill Series Trailers
Compact Loader Series Trailers
---
What Kind of Trailer is Right For You?
Utility Cable Reel – Felling's Utility Cable Reel trailers are built to your specification with safety-minded features. Load capacities ranging from 1,890 lbs. to 14,000 lbs, a wide range of reel capacities, LED lighting, and sealed wiring harness are all standard.
Utility Cable Reel Trailers
Utility Pole – Some jobs call for standard Felling Utility Pole Trailers and then there are those that call for one to be built to your customized spec with safety-minded features. Take confidence in knowing we have been supplying both our standard and highly customized Utility Pole and Utility Pole / Cargo Trailers for over 4 decades to the Utility/Telecom Industry.
Utility Pole Trailers
Pipe Coil – Specifically designed for use in the gas and water sectors, Felling's Pipe Coil trailers are built to high standards and your specifications.
Pipe Coil Trailers
Horizontal Directional Drill – Fellings' Horizontal Directional Drill Trailers are used to transport directional boring machines known as horizontal directional drills (HDD), used for horizontal underground drilling/directional boring.
HDD Trailer Series
Compact Loader Series –Felling Trailers designed and engineered the Compact Loader (CL) model line with your equipment in mind, making it the perfect Mini Skid Steer Trailer.
Compact Loader Trailers
Request a Quote From a Trailer Expert
Felling Trailers, Inc. is an ISO 9001 Certified Quality Management System, WBENC-Certified
WBE company, and an EOE Equal Opportunity Employer.