Felling Has Been Serving the Utility/Telecom
Industry for Over 40 Years.
Felling's Utility Cable Reel trailers are built to your specification with safety-minded features. Load capacities ranging from 1,740 lbs. to 13,520 lbs, a wide range of reel capacities, LED lighting, and sealed wiring harness are all standard. With options like the Self Loading Turret Reel that offers a 360-degree hydraulically operated rotating turret assembly, the turret can lock into any position when the directional control valve is released. Our Hydraulic Payout/Take-Up Rim Drive assembly will drive reels from 50" up to 120" dia. drive wheel engagement is accomplished with a hydraulic cylinder, various reel widths capable. Felling has your Utility Cable Real Trailer needs covered.
---
SLR Series
The Utility Cable Reel Trailers SLR series is a single reel self-loading reel trailer, available in 3 model variations ranging from 6,550 lb. to 13,600 lb. reel weight capacities.
• FT-8 SLR Capacity 6,550 lbs.
Reel Capacity – 120" reel diameter x 60" wide
• FT-14 SLR Capacity 11,835 lbs.
Reel Capacity – 120" reel diameter x 70" wide
• FT-16 SLR Capacity 13,600 lbs.
Reel Capacity – 120" reel diameter x 70" wide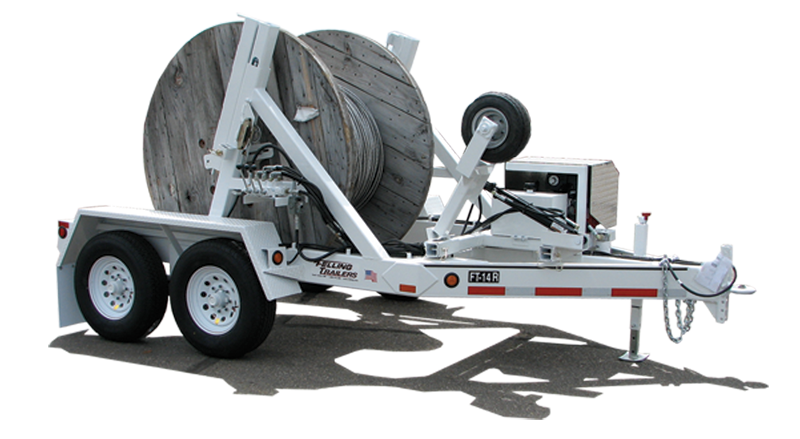 Optional power rewind rubber tire system (self-contained gas engine) and paint
FT-14 R Single Reel
---
Hydraulic Reel Operation
FT-8 Reel Operation
Request a Quote From a Trailer Expert
Felling Trailers, Inc. is an ISO 9001 Certified Quality Management System, WBENC-Certified
WBE company, and an EOE Equal Opportunity Employer.